How to Create Talent Communities?
Event Anywhere Team
Updated on
Are you tired of traditional hiring processes that rely solely on resumes and CVs? Ready to transform your hiring approach into a dynamic, modern experience?
Building a candidate pool and talent community significantly enhances a company's hiring process and talent strategy. A pre-qualified candidate pool expedites candidate identification and selection, leading to a faster hiring process while reducing recruitment costs through minimized advertising and extensive efforts. Furthermore, a well-managed candidate community ensures a positive candidate experience, portraying the company as organized, engaging, and genuinely invested in talent. This fosters ongoing relationship building, promotes inclusivity by enabling outreach to a diverse talent pool, and aligns candidates more strategically with job openings, enhancing the overall candidate fit.
Curating a candidate pool also improves the quality of the talent pool by nurturing ongoing engagement, and attracting high-quality candidates with relevant skills and experience. Additionally, it streamlines onboarding processes by allowing for smoother transitions and potentially reducing ramp-up time. Moreover, the availability of data insights from the candidate pool enables data-driven decision-making, refining hiring strategies based on candidate interactions and preferences. Ultimately, the vibrant candidate community positively influences the company's brand reputation, establishing it as an employer of choice and attracting top talent.
Event Anywhere lets you create a community of candidates to streamline your recruitment processes. With our seamless messaging, screencasting, self-service interview booking, and interview scheduling capabilities you can build candidate pipelines with ease. We believe in moving beyond the confines of a static CV, offering a platform that turns your job posting into a dynamic pool of candidates whom you can message, video call, and schedule interviews in seconds.
Below are some steps you can take to create a candidate community:
Step 1 – Set Up an Event Anywhere Site:
Visit eventanywhere.com and sign up for an account to create a platform for creating a candidate community. This is a walled garden for your hiring teams and your candidates.

Step 2 – Customize Your Site:
Create a reception area for welcoming candidates. Customize your site with relevant information about the job, your company, and the hiring process.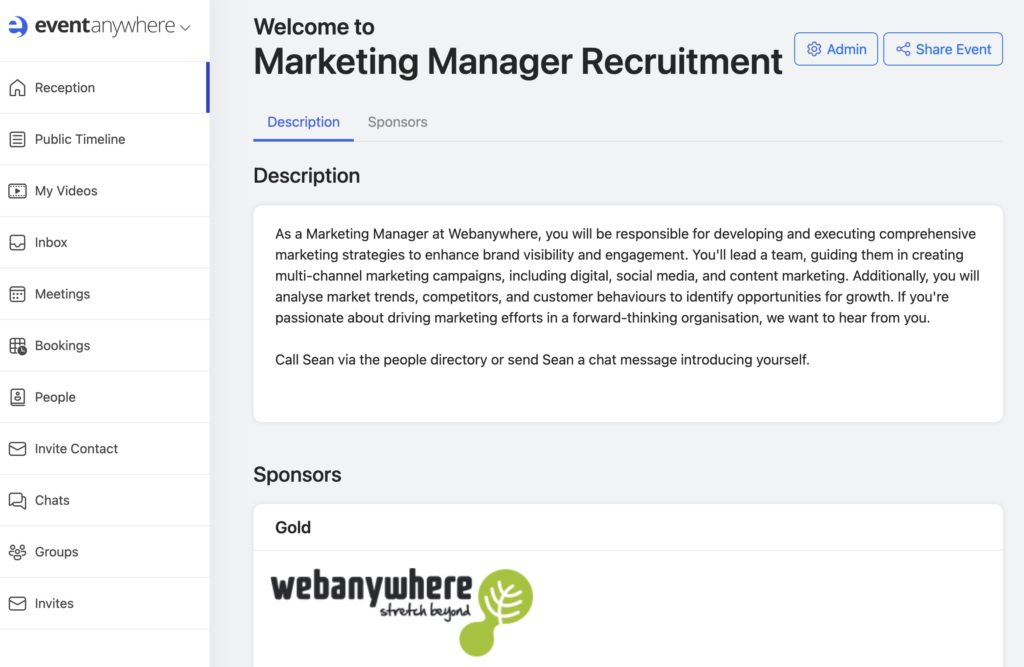 Step 3 – Invite Candidates:
Email candidates inviting them to yourcompany.eventanywhere.com to build your candidate community. Alternatively, send your candidate community URL on social media platforms such as LinkedIn asking candidates to create an account.
Thank You for Applying to Webanywhere!

We appreciate your interest in joining our team and taking the first step towards exciting opportunities in marketing. To move forward in the application process, kindly create an account on our portal and schedule your first-round video interview with Sean using the following link:.

https://marketing.eventanywhere.com

Looking forward to connecting with you and discussing your potential contributions to our projects and campaigns.
Step 4 – Candidate Interaction Options:
Check-in on your site to see which candidates have signed up and who is online.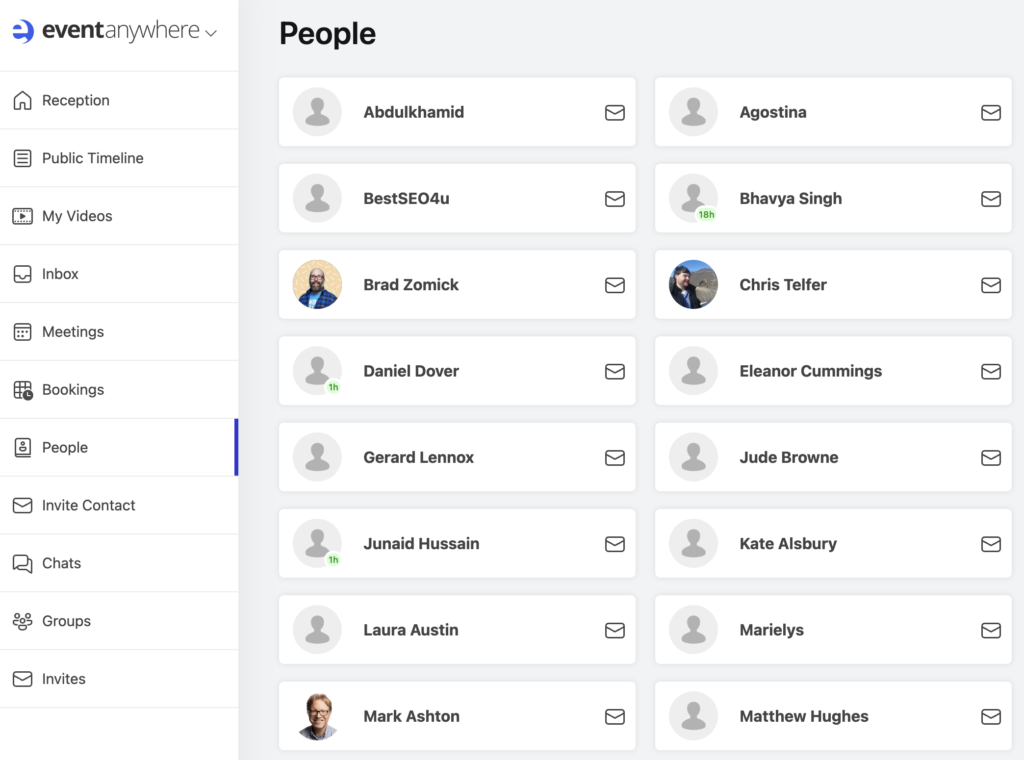 Candidates online can be called and candidates offline can be messages with chat.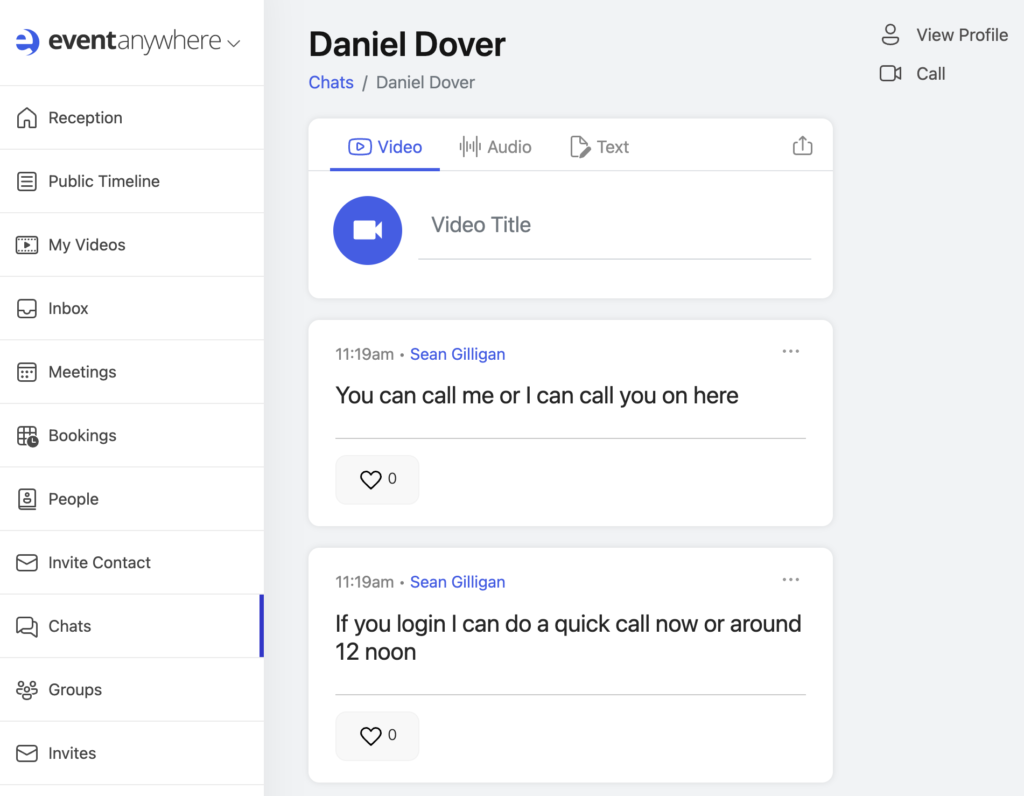 You can also create booking slots for 15 minute, 30 minute or 1 hour interviews for candidates to self serve.
Alternatively, candidates can book an interview using the self-service booking system.
Step 5 – Conduct Initial Interviews:
Conduct initial interviews video interviews. Optionally record interviews for sharing with hiring teams.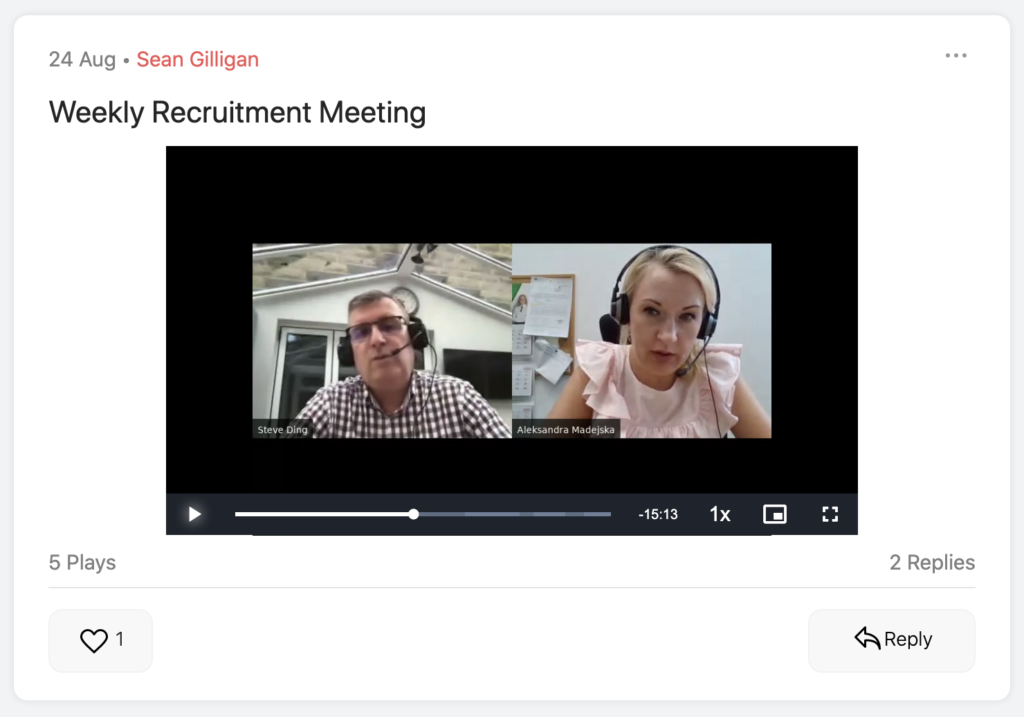 Step 6 – Record and Share Interviews:
Record interviews during the 2nd round for documentation and sharing purposes. Make these recordings accessible to hiring teams who couldn't attend the live interviews.
Establish a robust candidate pool database within EventAnywhere to centralize candidate details and interview recordings. This dedicated repository allows for efficient storage and easy accessibility, streamlining future hiring efforts. Leverage this database as a valuable resource to revisit and consider candidates for upcoming job openings, optimizing the hiring process and maintaining a talent pool that aligns with your organizational needs.
Craft engaging and informative video content tailored for seamless candidate onboarding using Event Anywhere. Share essential insights about your company's values, culture, expectations, and the hiring process. Utilize this dynamic visual medium to provide a comprehensive introduction, enabling new hires to assimilate smoothly into your organizational ecosystem. Presenting this vital information through videos ensures a more engaging and effective onboarding experience, setting the stage for a successful candidate integration.
Incorporate an iterative approach to enhance the EventAnywhere platform continuously. Actively seek feedback from both candidates and hiring teams to gather valuable insights into the platform's performance and user experience. Utilize this feedback to drive improvements, ensuring that EventAnywhere aligns seamlessly with your hiring objectives. Embrace ongoing optimization to maintain a cutting-edge platform that caters to evolving needs, making the hiring process more efficient and aligned with your organizational goals.