Manage Meetings Across Time Zones
Event Anywhere Team
Posted on
When you hire people from around the world, you get access to a much wider talent pool than you would if you only hired locally. Because of these factors, hiring international workers makes sense for many companies and businesses of all shapes and sizes from small startups to large corporations with offices across the globe. International business has many advantages: it allows you to grow faster than competitors, gain access to new markets, and expand your customer base.
The world is a global marketplace. People from all over the globe are working together to build businesses, projects, and careers. However, it can be difficult to collaborate with people who are in different time zones than you. Fortunately, there are ways to make this process easier!
Collaborate When Your Team Is Asleep
International businesses have a greater talent pool and are often more inclusive and diverse. However, time zones can be a barrier to collaboration due to different work shifts and patterns. It can be difficult to maintain a consistent work schedule when you are collaborating with people in different time zones. The key is to find ways to collaborate and communicate when your team is awake or use asynchronous communication so that the time of day doesn't matter.
Working when your team is asleep can be extremely valuable if you're working with people in different time zones. For example, a development team can build software during the day and as they are asleep a quality assurance team can test software for bugs. This can save time on scheduling meetings and maximise the 24 hours in the day.
In the below example, Michal Woch Operations Director at Webanywhere Poland makes the case for the promotion of Adrian Galuszka by sending a screencast in a private group. Michal then receives voice notes from other stakeholders including Software Developer Manager Pawel Dudek, Solution Architect Arthur Howie and Infrastructure Manager Niall Fleming. The meeting was held asynchronously and Adrian's promotion was approved by the UK board of directors in record time retaining a talented developer in the business.
Attending a meeting would have taken valuable time out of everyone's diaries and would have delayed the decision-making process by several days at least. We also face a timezone gap between Poland and the UK which presents additional challenges when trying to schedule meetings. Going asynchronous with communication provided an audit trail and was much more convenient.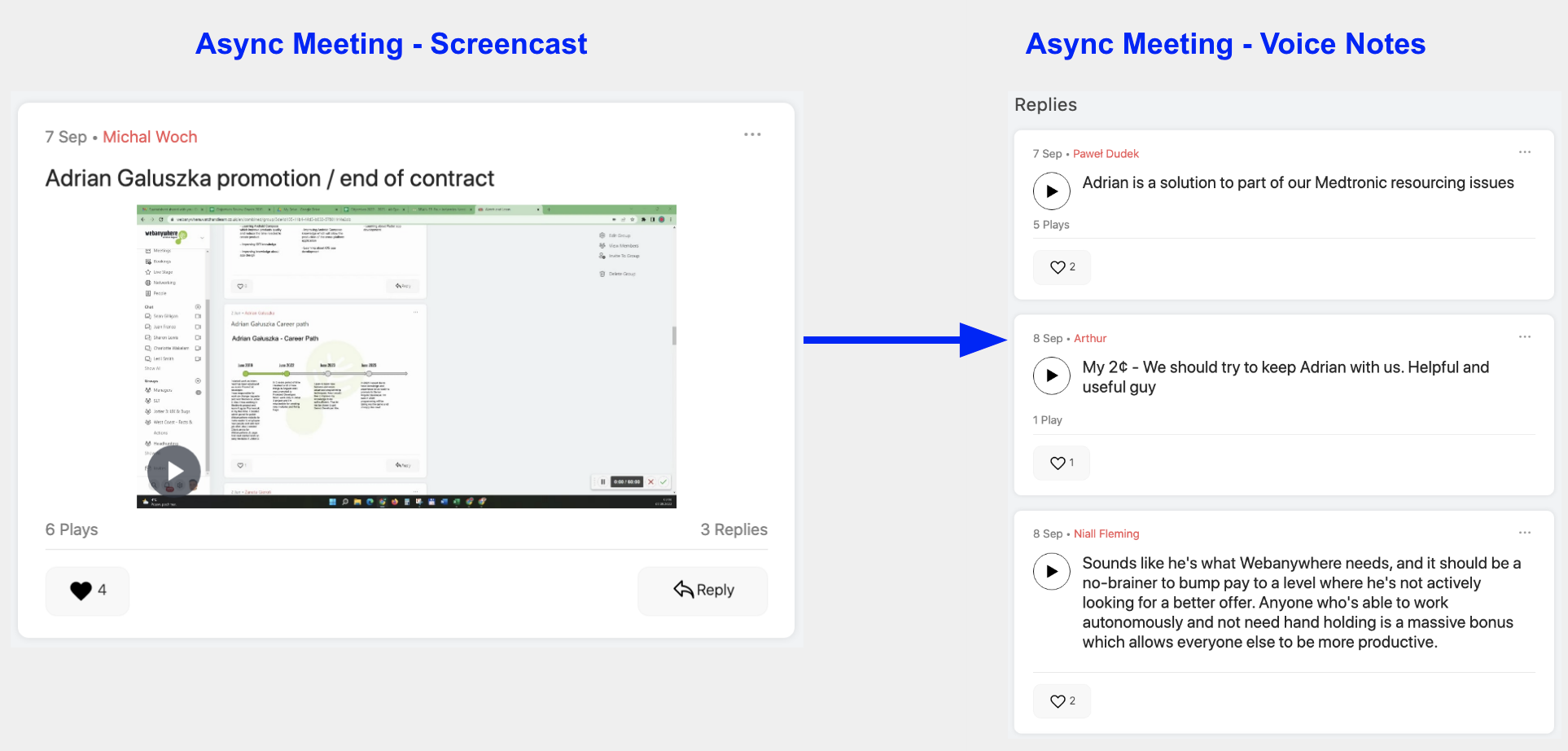 Your Team Can Take Advantage of Time Differences
With all the time zones out there, it can be hard to keep track of the best way to communicate with a team member. You don't want to call when they are asleep or send emails at 3:00 AM. This creates problems for both you and your team members.
If you have a remote employee or freelancer who is working from another country and time zone, you can use tools like Event Anywhere to send async meetings or conduct live video calls at different times throughout the day. You can also use these tools as reminders for when certain tasks need to be completed by each person on your team so they know where they stand with their responsibilities.
Avoid late-night work video calls which are inconvenient for family life
If you must have a video call with your team after a certain time, make sure it's in the morning or afternoon when your family is awake. If you are working late send async videos or voice notes so you don't interrupt your team's downtime. Asynchronous communication avoids late-night video calls and gives your team greater flexibility.
In a true emergency, you may need to rely on video calls as your primary means of communication but in most other instances asynchronous communication works well when you working after hours.
Use async communication to get work done across timezones
The key to working across time zones is using asynchronous communication. This means that you should focus on async meetings with tools like Event Anywhere, rather than face-to-face Zoom calls.
If you do need to speak with someone in another timezone, Event Anywhere supports video conferencing too. Through Event Anywhere you can have an audio call with multiple people at once by simply clicking on their names. This eliminates the need for scheduling multiple calls one after another—you can just jump into them when it's convenient for everyone!
Remember that your team members probably want some downtime too. So if they want to take a break from work don't feel bad about leaving them alone until the next day arrives. If you have an idea and you want to tell your team you can record a voice note in a group. Recording a voice note means you don't forget your idea and you get to see when your team has played the message. You could also send an email but it doesn't feel the same with the intention of your voice and perhaps your enthusiasm for the idea.
Use Event Anywhere to keep your cross-timezone team on the same page.
Event Anywhere is a cloud-based web conferencing app that lets you run meetings and share files, videos and documents with people in different timezones. You can use the mobile app on your phone or tablet to join your collaboration sessions whenever it's convenient for you. With Event Anywhere, you can meet both live or just-in-time through asynchronous communication. You can also record meetings and send them to your team members after the fact. This means that even if you're not in the same timezone as someone else, you'll still be able to communicate effectively with them.
Event Anywhere is a good resource for businesses that want to cut down on travel costs and make meetings more efficient. You can use the platform to host webinars, create async meetings and collaborate with your team members on projects from anywhere in the world. The software also includes features like video breakout rooms so customers can participate remotely, which makes it easy for companies to market their products or services across multiple time zones.
This is an excellent solution for sales teams who want to keep their cross-timezone team on the same page when planning sales campaigns or making product launches. It's also ideal for customer service teams who need to stay in touch with clients while they sleep so they can deliver timely replies during business hours.
With Event Anywhere, your team can work when it's most convenient for them. No matter what timezone you're in, Event Anywhere makes it easy for you to stay on the same page and get more done faster with either live or async video meetings.
Next Steps to Get Started with Async Meetings
Step 1
Create an Event Anywhere site
Step 2
Download the Event Anywhere Screen Recorder
Step 3
Start recording your screen and post screencasts to your Event Anywhere site.
Post your screencasts to the "My Videos" private library, the public timeline or in private groups/chats.