Peter Jones Foundation Teachers CPD
Event Anywhere Team
Updated on
The Peter Jones Foundation is a UK-based charity that was founded in 2005 by Peter Jones, the entrepreneur and investor who is best known for his appearances on the BBC's Dragon's Den. The foundation's mission is to "empower young people to achieve their potential through enterprise education".Peter Jones, born in 1966, had a humble upbringing in Berkshire. His parents, who worked tirelessly for over 50 years, were dedicated to providing their family with as much as they could. They instilled in Peter a strong work ethic and a drive to succeed.
As a young boy, Peter would often accompany his father to his office in Windsor. Although the office may have been small, it held great significance for Peter. Sitting in his father's big chair, he would let his imagination run wild and pretend to be in charge of a big company. It was in that chair that Peter's aspirations to become a successful businessman and make a difference in the world began to take shape.
From those early moments of imagination and inspiration, Peter Jones embarked on a remarkable journey that would see him become a prominent entrepreneur, investor, and philanthropist. His experiences and determination would lead him to establish the Peter Jones Foundation, dedicated to supporting young people in their entrepreneurial endeavors.
Peter's humble beginnings and the influence of his hardworking parents laid the foundation for his future success. It is a testament to the power of dreams, ambition, and the belief that even from the smallest of beginnings, one can achieve greatness.
The Peter Jones Foundation's work is focused on three main areas:
Enterprise education: The foundation provides enterprise education to young people through a variety of programs, including the Peter Jones Enterprise Academy, the Tycoon Enterprise Competition, and the Peter Jones Young Enterprise Challenge.
Support for young entrepreneurs: The foundation provides support to young entrepreneurs through its mentoring program, its business incubation program, and its funding program.
Advocacy for enterprise education: The foundation advocates for enterprise education through its work with government, businesses, and other organizations.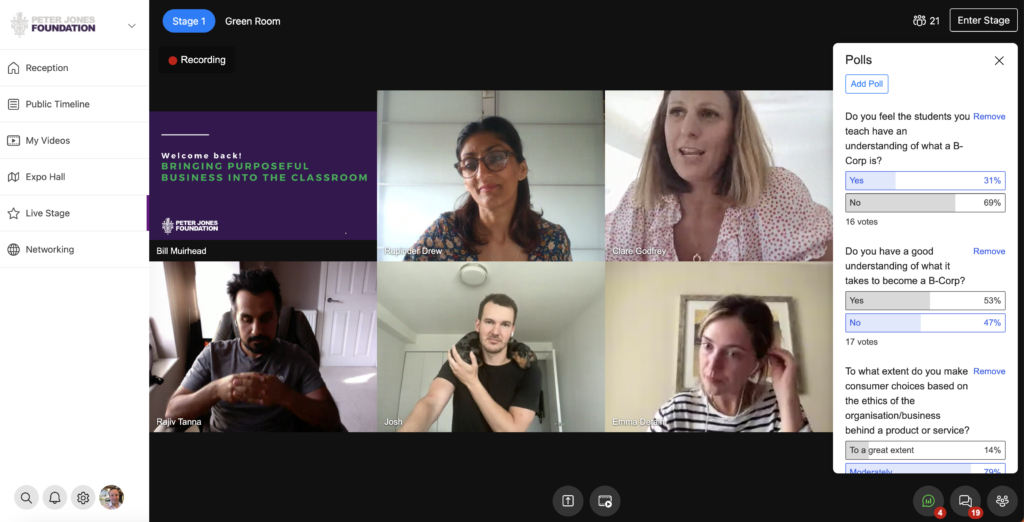 The Peter Jones Foundation, a renowned organization dedicated to fostering entrepreneurship and supporting educational initiatives, carefully considered several options before choosing Event Anywhere to host a webinar on B Corporations for teacher continuous professional development (CPD).
The foundation recognized the significance of B Corporations and their positive impact on society. Understanding the importance of spreading awareness and knowledge about this topic, they sought a platform that could effectively engage teachers and provide a seamless learning experience. After a thorough evaluation process, Event Anywhere emerged as the ideal choice for the following reasons:
Advanced Virtual Event Capabilities: Event Anywhere offers a comprehensive suite of virtual event tools, enabling participants to engage in high-quality webinars from anywhere in the world. The platform provides seamless video streaming, interactive features such as polls and Q&A sessions, and easy-to-use interfaces for attendees and presenters alike.
Customizable and User-Friendly Interface: The Peter Jones Foundation desired a platform that would be accessible and easy for teachers to navigate. Event Anywhere's intuitive interface, customizable branding options, and user-friendly features allowed the foundation to create a tailored experience that aligned with their objectives and enhanced the overall engagement of the webinar.
Reliable Technical Infrastructure: Hosting a successful webinar requires a robust and reliable technical infrastructure. Event Anywhere's proven track record in delivering seamless virtual events, along with its scalable platform architecture, assured the Peter Jones Foundation that they could rely on the platform to handle the anticipated participant load and maintain a stable connection throughout the webinar.
Support for Interactive Learning: Recognizing the value of interactive learning experiences, the foundation sought a platform that would enable teachers to actively engage with the webinar content. Event Anywhere's interactive features, such as real-time polls, chat functionality, and breakout rooms, facilitated meaningful discussions and collaborative learning, ensuring that the teachers could actively participate and enhance their professional development.
Data Analytics and Reporting: The Peter Jones Foundation wanted to measure the impact of the webinar and assess the teachers' engagement and understanding of the B Corporation concept. Event Anywhere's comprehensive data analytics and reporting capabilities provided valuable insights into attendee participation, engagement levels, and feedback. These analytics empowered the foundation to evaluate the success of the webinar and tailor future initiatives accordingly.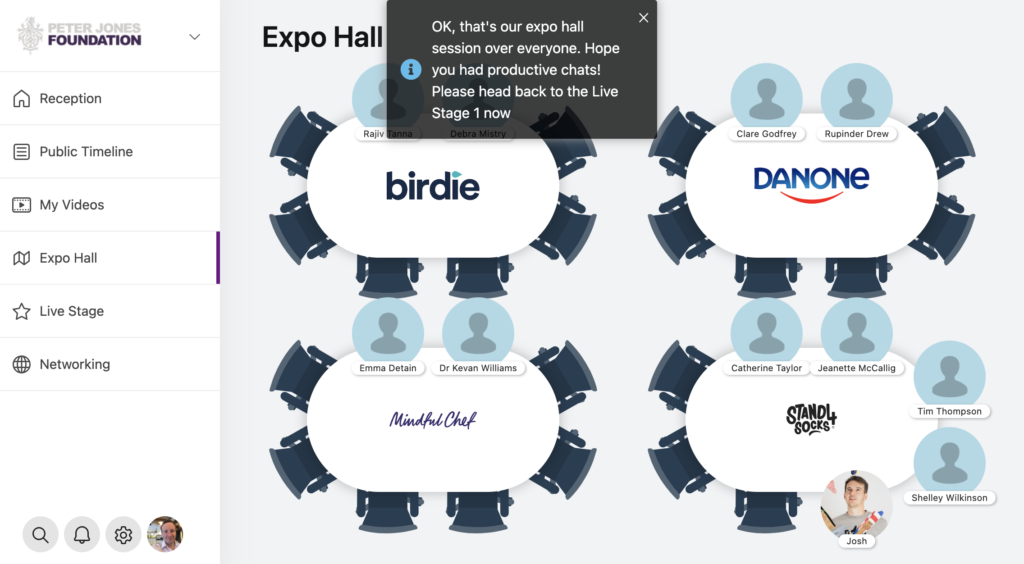 By selecting Event Anywhere as the hosting platform for their webinar on B Corporations, the Peter Jones Foundation ensured a high-quality and engaging learning experience for teachers seeking continuous professional development. The platform's advanced features, user-friendly interface, reliable infrastructure, support for interactive learning, and comprehensive analytics contributed to the foundation's decision, ultimately helping them achieve their goal of disseminating knowledge about B Corporations to a wide audience of educators.
Event Anywhere, the virtual event platform, played a pivotal role in streaming presentations and talks on B corporations to teachers, providing them with a dynamic and interactive learning experience. Through the live stage feature of Event Anywhere, teachers had the opportunity to join virtual sessions where industry experts and speakers delivered engaging presentations on the topic. The live stage facilitated seamless streaming of the presentations, ensuring that teachers could easily access the valuable content from the comfort of their own locations.
One of the standout features of Event Anywhere was the ability for teachers to actively engage with the presentations through live chat and polls. The platform offered a dedicated chat function that allowed teachers to ask questions, share insights, and connect with both the speakers and their fellow attendees in real-time. This interactive element fostered meaningful discussions and created a sense of community among the participants, even in a virtual setting. Additionally, live polls were conducted during the sessions, enabling teachers to provide instant feedback, participate in quizzes, and gauge their understanding of the subject matter.
The combination of streaming presentations on B corporations and the interactive features of live chat and polls made Event Anywhere an invaluable platform for teachers seeking to deepen their knowledge and engage with relevant content. It not only provided them with access to expert insights but also fostered collaboration and active participation, enhancing the overall learning experience. Through Event Anywhere, teachers were empowered to expand their understanding of B corporations and gain practical insights that they could apply in their teaching practices, ultimately benefitting their students and the wider educational community.
Bill Muirhead, Managing Director of Peter Jones Foundation, shared the following testimonial:
"I wanted to take a moment to express my gratitude and extend a big thanks to you for all your support with our online teacher event. Your presence in the background was greatly appreciated, and I must say that we couldn't be happier with the Event Anywhere platform. It performed flawlessly, without any glitches, and contributed significantly to elevating our event to a level of professionalism and engagement that surpassed the average online experience.

The Event Anywhere platform provided us with the tools and features we needed to create a slick and polished event. It made the entire experience more interactive and captivating for our participants. We are truly impressed with the platform's capabilities, and it helped us deliver an event that exceeded our expectations.

Once again, I want to express my sincere thanks to you and the entire team at Peter Jones Foundation for providing us with such a fantastic platform. Your support and the capabilities of Event Anywhere truly made a difference. We look forward to working with you again in the future."