Sales Video Outreach and Scheduling Software
Event Anywhere Team
Updated on
Making sales is hard. It's even harder when you're competing against companies that have already mastered the art of conversion — and that's why having a robust sales prospecting strategy is so important. In this article, we'll walk through how to use Event Anywhere to get more meetings with your prospects and customers using video messaging.
Make a Sales Video
Your sales video should be a brief, informative, entertaining and persuasive product or service overview. It can be as long or short as you want it to be; the only things that matter are that you keep it moving forward, keep the audience engaged, and make sure they know what they're getting when they click on your video.
You'll want to explain what your product or service is in terms that are relevant to potential customers—for example: "Our software helps small businesses manage their inventory." You'll also want to explain how it works—its features and benefits—and who will benefit from using/buying/experiencing it. As an example: "If you're a small business owner looking for an easy-to-use inventory management tool that won't cost thousands of dollars monthly…"
Automatically Schedule Calls
Automatically schedule calls with prospects, customers, or anyone else in your CRM. Just set up a meeting template and our platform does the rest. You can send video outreach messages to specific groups of people or individuals on your list who are most likely to respond to your offer (i.e., those who have already viewed the video).
If they accept the invitation, you get an instant callback link that enables you to book meetings online through self-service.
Get Leads 24/7 with Video Outreach
Video outreach is a great way to reach your audience, get leads, and generate sales. With our automatic video meeting scheduler you can also use it for customer service, lead generation and more.
Here's a few ways we recommend using video outreach:
How to guides
Introducing new account managers
Offering proactive customer support
A more approachable way to book training sessions
Book Meetings Online Through Self-Service
You can book meetings online through self-service. Your sales team will be able to use a calendar, CRM, or video conferencing system to schedule and confirm all appointments.
The benefits of this approach include:
Simplicity—No need for you or your team members to wait around for someone else to take action on their behalf.
Speed—Your prospects are likely familiar with the technology they're using and therefore find it easy to use.
Efficiency—The whole process is streamlined so there's one less thing you need to worry about.
Email your Video Outreach Messages to Prospects
You don't need a fancy video camera to create a high-quality video. All you need is your phone and an idea of what you want to say.
Here are the steps:
Create a script for your video
Record yourself reading the script and upload it to YouTube
Use Event Anywhere to easily turn your videos into outreach messages that get sent automatically when someone responds favourably on LinkedIn, Gmail and other platforms! You can also use Event Anywhere in conjunction with other automation tools like email auto-responders or CRM Software.
Enable Instant Callbacks
With the click of a button, your contacts can schedule an instant meeting. This will save you time and keep you organized. You'll never have to worry about forgetting to set up a meeting again, because it's all automated. If you are available contacts can call you instantly and computer rings. When you are not available contacts can select a date and time available on your calendar.
This feature allows users to send personalized video messages via emails saving them time while providing excellent customer service at no extra cost
Why Send Video Messages?
How can your messages stand out from the crowd? Video messages are a great way to drive open rates and click rates for any sales outreach efforts. Not only do they make your message stand out among the clutter of an overflowing inbox, but they also add a human touch to the online sales experience—so much so that they've been shown to increase response rates by as much as 15%.
Here's how it works: You send a video message, instead of an email. Then, when your prospect opens it up, they see their name and hear your voice asking how they're doing today. It feels like you're talking directly with them! That's because you are! It's just one of those little things that makes all the difference in making connections with people.
In the below example Nick White, Head of Enterprise Sales at Webanywhere sends a video outreach screencast explaining Workplace Learning Solutions. Prospects and customers can watch the video, book a meeting or instantly call back.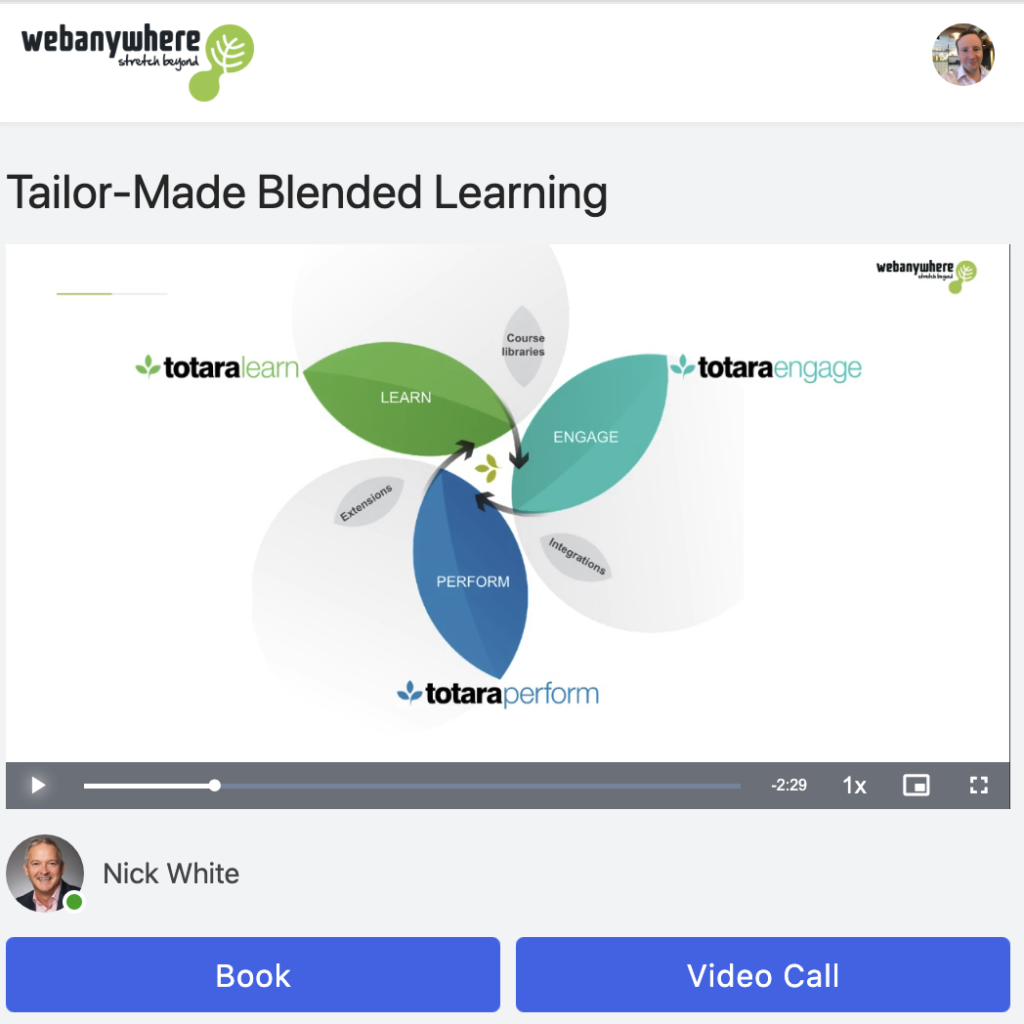 Outreach, bookings and instant callbacks
Event Anywhere lets you send video outreach messages, book meetings online through self-service and enables instant video callbacks.
Event Anywhere is a cloud-based video calling, scheduling and meeting platform that can be used to schedule meetings with prospects and customers. It's a great tool for salespeople who want to track their progress towards closing deals by making it easy to schedule calls or meetings with prospects. The platform also allows users to record their interactions so they can review them later on.
Video outreach and automatic video meeting scheduling with Event Anywhere is a great addition to your sales toolbox. It can help you get high-quality leads and book more meetings with customers who are looking for what you offer. The important thing is that it's not just about the tools themselves, but how you use them to drive results for your business.