Case study: Future of Sales
Successfully pivoting to virtual events during the pandemic.
Overview:
Future of Sales is a new virtual event series designed for Chief Revenue Officers, Vice Presidents of Sales, and Directors of Sales to keep updated on the latest digital transformations impacting the sales industry.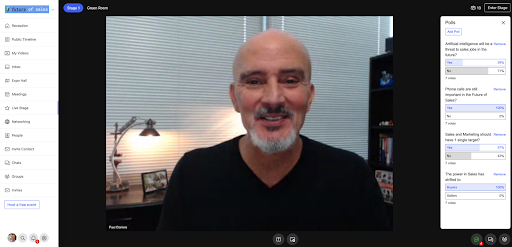 Challenge
Change the methods and overall sales approach for sales managers and leaders

Needed a virtual event series that would help them keep updated on the latest sales trends
Solution
Future of Sales – a virtual sales networking event series was hosted on 17-September, 2021
Result
The virtual event series was a resounding success with five-panel discussions:
Darryl Praill, CRO, Vanillasoft spoke about five formulas that always work for sales representatives

Paul Daniels, CRO, Intelligent Contact spoke about peripheral thinking and the future of sales

Bart Liechty, CRO, Kadince talked about breaking the sales stereotypes

Alex Bruce spoke about how process, culture, and onboarding impacted the sales journey

The podcasting for B2B sales influencing was discussed in length by Natalia Hunk, the CRO
There was also a bonus session on sales professional networking.
Next steps
Event Anywhere is an all-in-one virtual events platform that makes online events more personal.
It has all the features and functionality needed to make your future events a success, offering an end-to-end solution that makes organizing and running virtual events a breeze.
Planning a virtual event right now? Speak with our virtual event consultants who are on-hand to help get you started with Event Anywhere.