Headstar – The Future of Work
Headstar – a specialist, financial recruitment agency – needed a virtual event platform to host their annual event on the topic of "The Future of Work".
Event Anywhere helped make the event a success by hosting a panel session on the live stage, followed by virtual networking in the platform's online exhibition hall.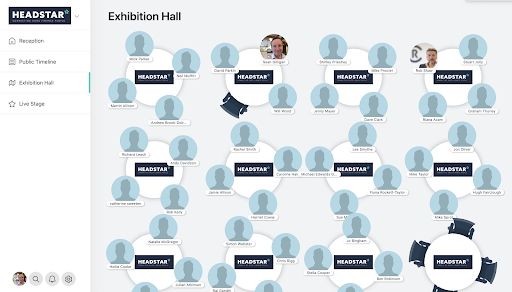 Challenge
Needed a meetings solution to easily host a panel session and virtual networking event online, as an alternative to the company's usual in-person events.
Solution
Event Anywhere hosted an 8-person panel discussion session on the platform's live stage.
Event Anywhere provided a 100+ seat virtual networking hall, hosting a successful post-event attendee networking session.
Result
Event was a success, with both panel discussion and networking sessions going off as planned, without a hitch.
Next steps
Event Anywhere is an all-in-one virtual events platform that makes online events more personal.
It has all the features and functionality needed to make your future events a success, offering an end-to-end solution that makes organizing and running virtual events a breeze.
Planning a virtual event right now? Speak with our virtual event consultants who are on-hand to help get you started with Event Anywhere.