An All-in-One Place To Organise and Host Meetings
Event Anywhere Team
Updated on
Virtual event curation involves a lot of preparation and meeting planning. The attendance of speakers, sponsors, and other attendees must be planned and coordinated so that the actual event proceeds seamlessly. Organising meetings the usual way (emails, phone calls, company group chats, etc) can be time-consuming with back-and-forth follow-ups to make sure everyone's schedules align.
Once the meeting arrangements are finalised, at some point the speakers, sponsors, and attendees need to create an account through a video conferencing platform such as Zoom, Microsoft Teams, or Google Meet.
Easier Virtual Event Planning 
A different and more convenient approach is to host the meeting preparation and planning for your event on the virtual conference platform itself. By getting speakers and sponsors onto your online event software early, they can familiarise themselves with the technology.
Not all virtual event platforms have appointment booking systems. Lucky for you, Event Anywhere is a virtual event software where users can set their meeting availability in their own calendar.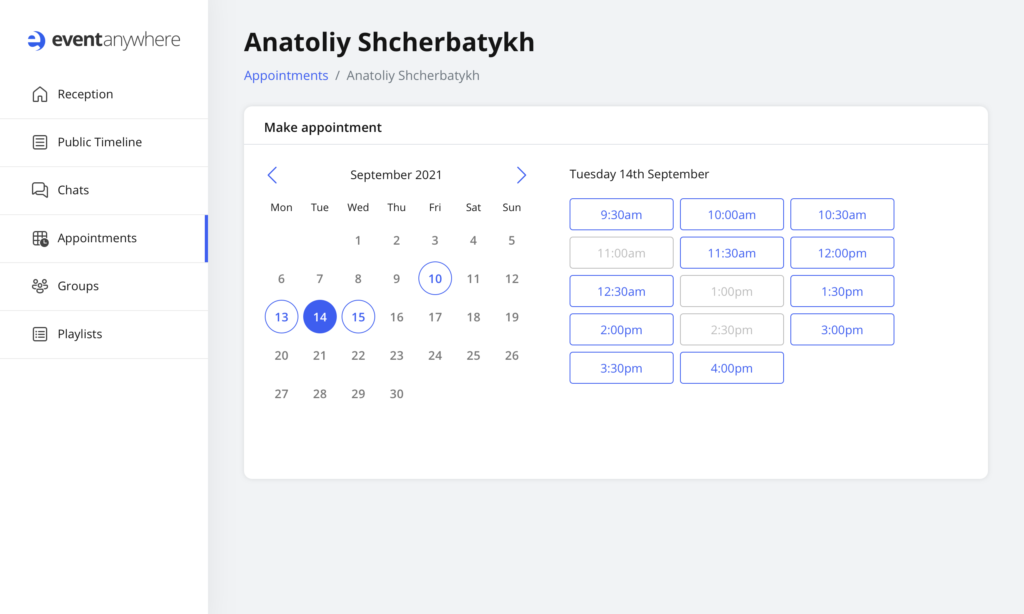 Visible Availability
Bookings are useful for pre-event planning, meetings during an event, and post-event follow-up. Online appointment booking systems make it easier to find the right time to coordinate with those involved in your event. It will remove a lot of friction caused by schedule differences. 
With an appointment booking system, event planners, sponsors, and speakers can browse a person's calendar and see his or her available schedules. They can choose a schedule and set a meeting.
The analytics feature of Event Anywhere shows you how many bookings you have had. This will allow you to measure leads generated. The number of people visiting your virtual booth may be a key performance indicator in marketing, but someone who booked a meeting with you is a more qualified lead.
Various Meeting Options
There are several ways you can host a meeting on Event Anywhere such as click-to-dial video calls, networking, expo hall, and video messaging. For private meetings, use scheduled video meetings. 
The Event Anywhere digital event platform allows you to create video meetings and invite attendees. The booking system also does this and ensures you have the optimal time for yourself and meeting participants.
Why Use an Online Booking System?
Not using an appointment booking system can result in meeting cancellations due to diary clashes. Online booking systems reduce the time to schedule a meeting. Also, you can make sure you have ample breaks in-between meetings. After all, you don't want to be disturbed during a keynote speech!
It's also easier to follow up using a digital event platform. With an appointment booking system present on the virtual event itself, people can stay on your online event hosting platform for days and weeks after your event. 
The time a user spends on the site is a key performance indicator for event success. The longer participants attend your virtual event, the higher their engagement and the more likely they are to return.