How do you work asynchronously?
Event Anywhere Team
Updated on
Meetings are the bane of every remote worker's existence. When you're not in the same room with your colleagues, it can be difficult to keep everyone on the same page. That's why hybrid work collaboration is so important.
Hybrid work collaboration is a type of collaboration that combines face-to-face communication with digital tools and services. It's one of the best ways to increase your productivity and get things done faster.
However, if you're not careful, you can end up spending more time in meetings than actually getting stuff done. This is where screencasts and voice notes come into play!
Screencasts are recordings of someone using their computer. Voice notes are when someone records themselves speaking into their phone or computer for quick-fire messaging. In this article, we'll explain why both types work well for hybrid work collaboration.
If you think about it, meetings are just a way for people to come together to exchange information. The problem is that meetings can be really inefficient. If you're in a meeting, you have to sit through hours of people talking or going through slides without being able to do anything else—that can make it hard for people to stay focused.
Screencasts and voice notes are great because they let you stay productive while still participating in meetings. They don't require your full attention, so you can use them as a way to keep up with what's being discussed while also working on something else at the same time. Plus, they make it easy for everyone who doesn't want to attend the meeting in person (or those who aren't able) to participate remotely.
What do you think of when you hear the word meeting? Most people think about Microsoft Teams, Zoom, or Google Meet. You probably don't think about screencasts and voice notes. However, there are plenty of reasons why screencasts and voice notes might be your best bet for getting work done.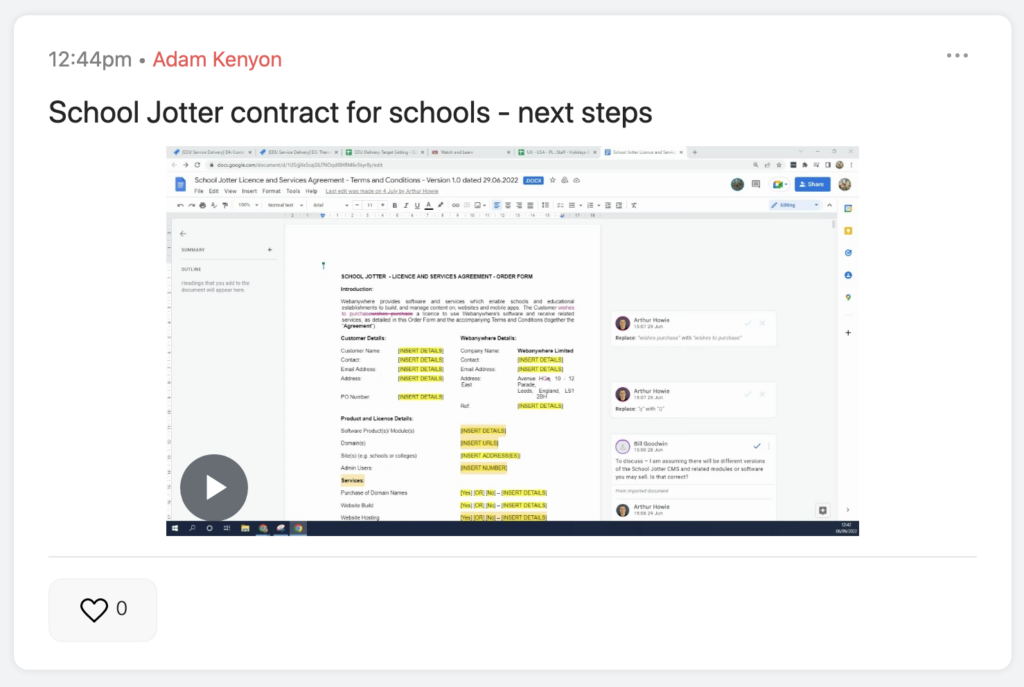 Host a meeting async
Hosting a group meeting is as simple as sending an email. Send that email to your team and provide the URL of your screencast, then sit back and let them join you!
Team members can then reply to your screencast with voice notes. You can reply to those voice notes with your own voice notes or text, allowing for meaningful collaboration without needing everyone to be online at once.
Flexible work communication
When it comes to communication, the most efficient method is asynchronous. Asynchronous communication is flexible.
Flexibility means you can work whenever you want, wherever you are and get notified when something happens. For example, if I post a screencast on Event Anywhere and someone replies with a voice note, I will receive an email notification so I can watch the video while listening to their response. This makes it easy for me to multitask and respond quickly.
Go asynchronous with communication whilst maintaining empathy
Empathy is important in communication, and it's even more important in asynchronous communication.
The asynchronous nature of screencasting provides much more empathy than a text message or text-based document. It can be easy to forget that your audience may not have as much time or bandwidth to devote to watching as you do, which can lead you to underestimate their level of interest in what you're trying to say.
Luckily, there are ways that screencasting can help foster empathy. Screencasts allow people the freedom not only to pause what they're viewing but also fast-forward through sections they don't need. All of this ensures people know what's happening without taking over there diary with endless meetings.
Screencasts are a great way to see what people are seeing, and a great way to see what people are doing. Screencasts can also be used for training and coaching.
Drive transparency
The best way to build trust with your audience is with transparency. That's why we've made it easy for you to see who says what on screencasts and screen recordings, as well as when people are talking and participating in the conversation.
Get started with Screencasting and get replies from team members with voice notes
Step 1
Create your Event Anywhere site and invite co-workers
Step 2 
Download the Event Anywhere Screen Recorder for Google Chrome
(note this is for computers only not mobile phones)
Step 3 
Start posting screencasts on the Event Anywhere timeline, in private groups or via chat.