Where do you store your meeting recordings?
Event Anywhere Team
Updated on
I'm a busy person, so I don't have time to waste. When I need to share meeting recordings with an audience, I want them as soon as possible. But how do you find the best cloud storage solution for your needs? In this article, we'll explore four popular options: DropBox, OneDrive, Google Drive and Event Anywhere. We'll also look at when you should store your meeting recordings in each service.
OneDrive
OneDrive is a cloud storage service operated by Microsoft. It allows users to store files and personal data in the cloud, accessible from a variety of devices. OneDrive is available on Windows, macOS, Android, iOS, Xbox and some other operating systems. You can also access your files through one of the many third-party applications that work with OneDrive.
OneDrive offers 15 GB of free storage space for new users (with an additional 5 GB if you refer friends) which should be enough to hold most small business recordings as well as documents and other important company files such as contracts or legal agreements.
Google Drive
Google Drive is a great option to store your meeting recordings, especially if you have a small business. Google Drive is free and easy to use, making it an ideal choice for anyone looking to start saving their meetings. It also allows you to share files with others so that everyone at the meeting can access them easily. Plus, it gives you the ability to search for specific conversations based on keywords or even individuals' names.
DropBox
DropBox is a cloud storage service that allows you to upload and store files in the cloud. You can choose to use its free or paid plans, both of which feature 2GB of data storage space. DropBox has mobile apps available on iOS and Android devices as well as a web app that can be used on any computer. If you want to share files with others, there's also a desktop app that allows users to sync folders between their devices without having to download anything from the Internet.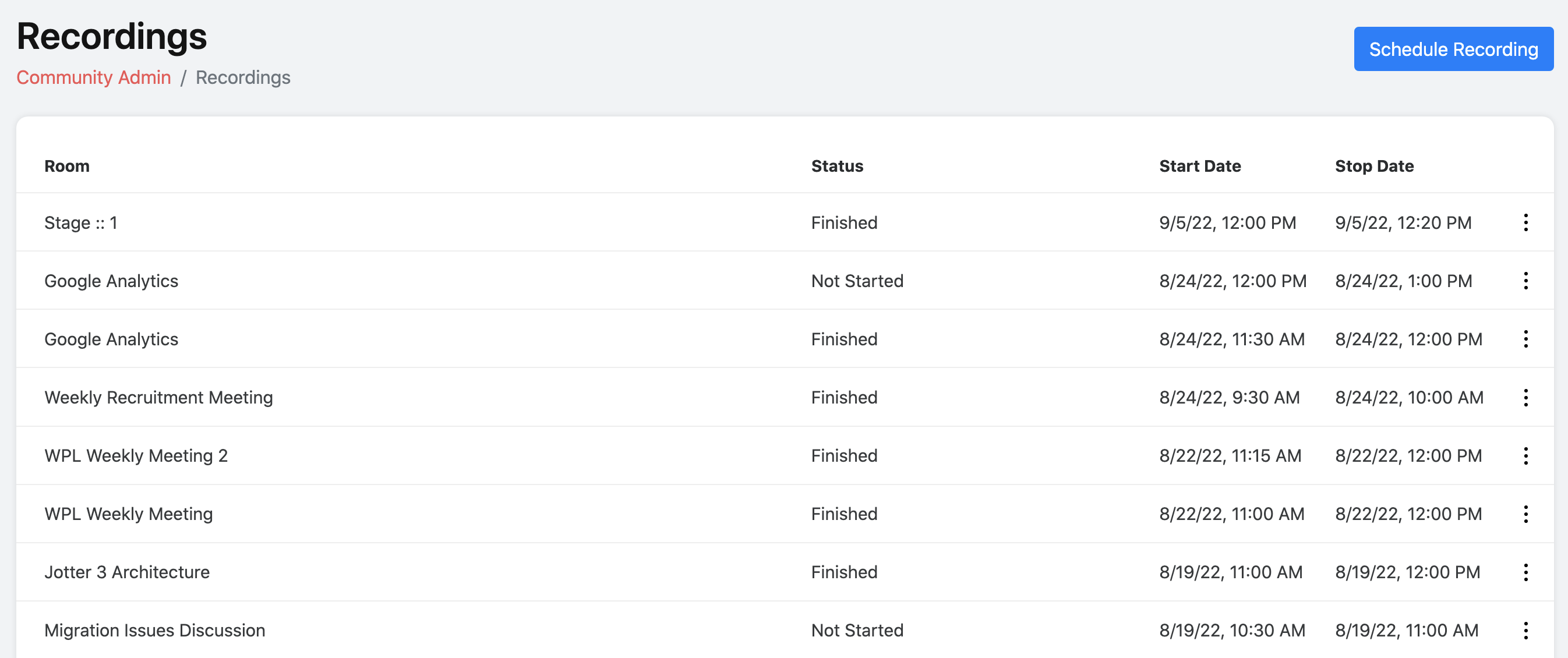 Event Anywhere
Meetings are a huge part of our jobs. Whether it's a weekly team meeting or an hour-long presentation in front of the whole company, meetings are where we get work done and share our ideas.
If you're not already recording your meetings, you should start doing so. Recording your meetings allows you to go back and review any important points that may have been missed, or even just reinforce what was said during the meeting by hearing yourself speak again.
If you don't want to keep all this information on your hard drive (or if there are too many meetings!) then consider storing them in the cloud. Cloud-based services like Event Anywhere allow users to record their meetings directly into the platform from their desktop computers or mobile devices. The recordings can be searched later using text search terms or date ranges so finding exactly what you need won't be difficult at all.
Why choose Event Anywhere?
I choose Event Anywhere because of its unique features where you can host, record and share meetings all in one place. The software works on all computing devices and can be used to record meetings, webinars, conferences and more. The recordings are stored in the cloud so you can access them from anywhere. And with a free account, you won't have to pay any fees for storage or sharing to test the platform out.
But what I like most about this platform is that it lets me share past recordings with others in my organization. Once a recording is shared you can see who has played it which acts as a delivery receipt. Event Anywhere has a powerful search function that allows me to find any recording by date or meeting type (even if I didn't attend).
I think the best way to store your meeting recordings is with Event Anywhere. It's easy to use and has great features like automatic transcription and tracking analytics that allow you to see how people are engaging with your content.