How to overcome 7 problems with Remote Work
Event Anywhere Team
Updated on
In this new era of remote and hybrid work, new problems have arisen in workflows. These problems need to be solved, and below are some practical solutions for you to consider implementing. While you can never replace in-person collaboration altogether, here are some ideas on how you can accelerate remote work, making it more enjoyable. Let's go through the obstacles to success and some new methods to alleviate these problems. 
1. PROBLEM – Scheduling Overload & Zoom Fatigue
Scheduling meetings can be done via Calendly or through video meeting invites. Time-blocked work is not always the answer when you want a 5-minute discussion.
SOLUTION
Using video messages and voice notes allows you to have a real conversation without interruptions. People can send video/voice messages and get responses in a timely fashion. 
2. PROBLEM – A Lack of Transparency 
We are working from home, and so transparency has gone down. We used to be able to see the work getting done, and now we can not. 
SOLUTION 
Screencasting in direct chat, groups, or on timelines gives visibility to your work. You can see who has played your screencast, receive feedback and celebrate success. If a project brief has been misunderstood the screencasts will highlight this early on. 
3. PROBLEM
 – 
Video Meeting Noise and Distractions 
We have all been there where you need to mute all to stop feedback and noise. Too many faces on video calls leads to distractions. 
SOLUTION
Use the live stage on Event Anywhere to hold all-hands meetings or host external presentations. Presenters appear on video, and everyone else engages using moderated chat. Live polls can be created for further real-time feedback to inform decision-making.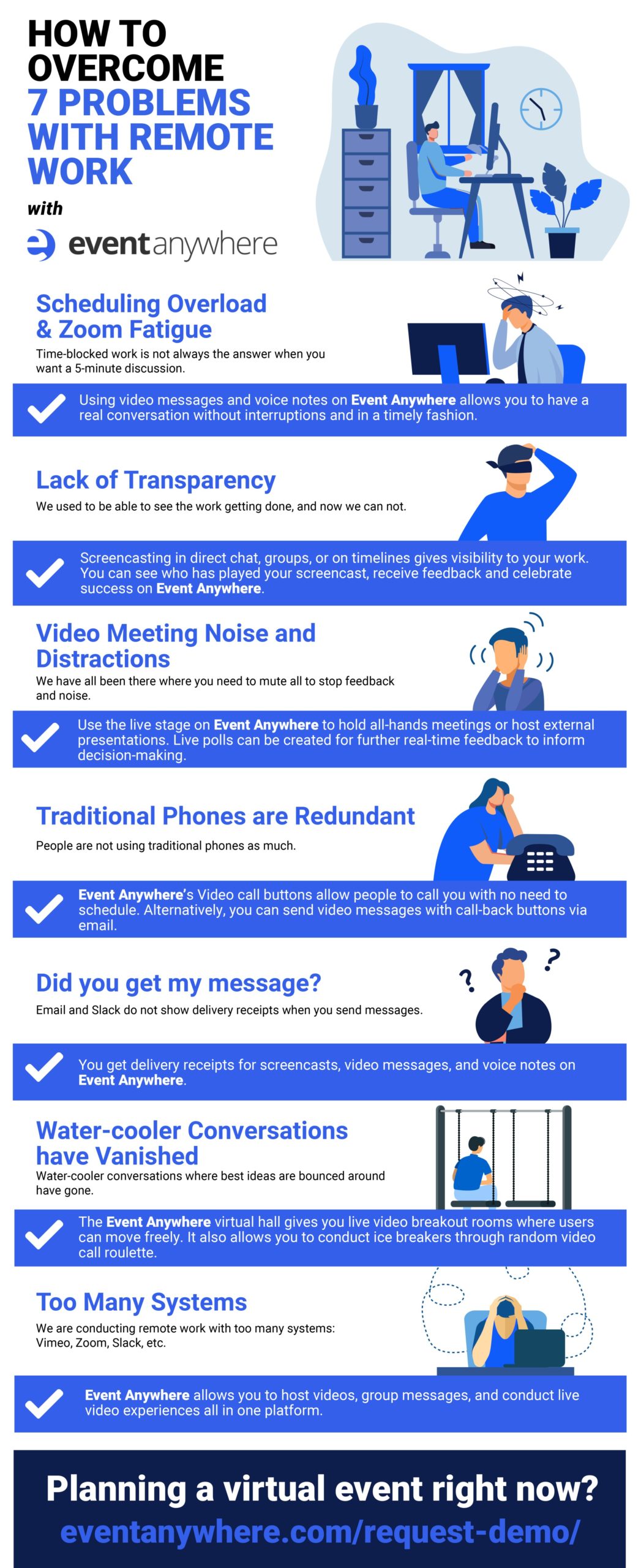 Click here to download the above infographic
4.

PROBLEM – Traditional Phones are Redundant 
People are not using traditional phones as much. Many switchboard operators state the person you are trying to contact is working from home. 
SOLUTION 
Video call buttons allow people to video call you with no need to schedule. You can embed video call buttons on your websites. 
Alternatively, you can send video messages with call-back buttons via email. Video call buttons are only enabled when you are available. People can click to call you with no finger dialing. Sharing your screen on a video call provides a visual form of communication far superior to a traditional phone call. 
5. PROBLEM – Did you get my message? 
Did my message get delivered and played? We all get anxious when we send a message with no reply. Email and Slack do not show delivery receipts when you send messages.
SOLUTION
You get delivery receipts for screencasts, video messages, and voice notes on Event Anywhere. You can see who has played your message giving you peace of mind. This means you don't need to pester people unnecessarily. 
6. PROBLEM
 – 
Water-cooler Conversations have Vanished
Water-cooler conversations have vanished, and those chance meetings where the best ideas are bounced around have gone.
SOLUTION 
The Event Anywhere virtual hall gives you live video breakout rooms. Instead of admins assigning people to breakout rooms, users can move freely between different tables and chairs for serendipitous conversations. In addition, the Event Anywhere networking app allows you to conduct ice breakers through random video call roulette. This is great for new starters in your business. 
7. PROBLEM – Too Many Systems
We are conducting remote work with too many systems. Vimeo for video hosting, Zoom for calls, and Slack for messaging. 
SOLUTION
Event Anywhere allows you to host videos, group messages, and conduct live video experiences all in one platform. Uniquely we bring people together with video-first and voice-first approaches for more human connections when teams work remotely. 
Next steps
Event Anywhere is an all-in-one virtual events platform that makes online events more personal.
It has all the features and functionality needed to make your future events a success, offering an end-to-end solution that makes organizing and running virtual events a breeze.
Planning a virtual event right now? Speak with our virtual event consultants who are on-hand to help get you started with Event Anywhere.